Unit Size
Self Storage
Monthly Rate
Temperature Controlled
Monthly Rate
5 x 5
$48.00
-
5 x 10
$65.00
$84.00
5 x 15
$80.00
$111.00
10 x 10
$103.00
$134.00
10 x 15
$119.00
$163.00
10 x 20
$149.00
$191.00
10 x 25
$178.00
$222.00
10 x 30
$209.00
-
10 x 40
$247.00
-
*Unit sizes are approximate.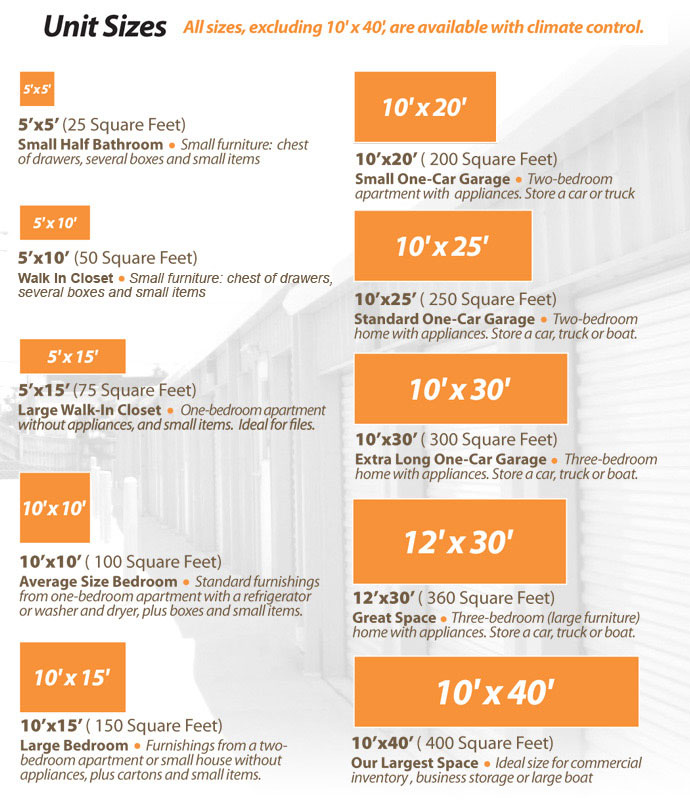 Map & Virtual Tour
What type of self storage unit do you need?
Self Storage Units
Well suited for storage of items you would feel comfortable storing in a garage type area.
Temperature Controlled Storage Units
Temperature controlled storage units are ideal for temperature sensitive items. Temperature controlled self storage is recommended for furniture, upholstered pieces & electronics. Thermostats in our temperature controlled areas are set between 60 & 79 degrees.
Why 9301 Storage Way?
Space Center Storage is located 1 mile north of the Gene Snyder Freeway just off Bardstown Road @ 9301 Storage Way in the Fern Creek area of Louisville, Kentucky. We are located across the road from Moby Dick's, behind Circle K.

We offer both traditional self storage units and temperature controlled storage spaces in a wide variety of sizes, so you only have to rent the space you need. Our temperature controlled spaces have the thermostats kept between 51 and 79 degrees year round and is recommended for furniture, electronics and other items that are temperature sensitive. These units are accessed through wide, well lit interior hallways and all of our temperature controlled spaces have lighting inside them. Traditional self-storage units are ideal for items that you would be comfortable storing in a garage type area.

Our rental office is staffed by experienced and courteous managers who can help you determine the type and size of self storage rental that will best fit your needs. We pay particular attention to make sure that our stores and storage units are clean and comfortable for our customers and their belongings; we invite you to come out and see our store.
Traditional and temperature controlled self storage
Computer access gate
Closed circuit cameras
No deposit or setup fees
Month to month lease
We accept all major credit cards & offer online payments
We sell locks, boxes & storage supplies
Space Center Storage @ Fern Creek in Louisville, Kentucky is well situated to the Gene Snyder Freeway (I-265), Bardstown Road, South Hurstbourne Lane, Fern Creek Road, Beulah Church Road and Seatonville Road. In addition, we are convenient to a large number of area businesses including: Wal-Mart, National City, BB & T, 5/3 Bank, Cracker Barrel, KFC, Frisch's Big Boy & McDonald's.

Call the rental office now at (502) 239-6676