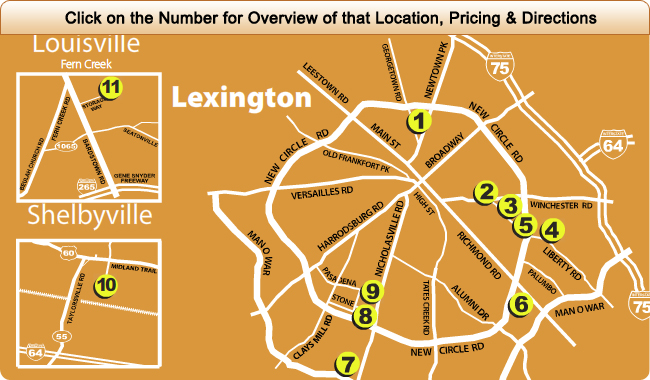 Welcome to Space Center Storage
We opened the first mini storage facility in Lexington, Kentucky back in 1974. Since then we have grown to encompass 11 self-storage facilities in Kentucky with 9 storage locations in Lexington, KY as well as locations in Shelbyville, KY and in the Fern Creek area of Louisville, KY.
We offer both traditional self storage units which are suited for items that you would be comfortable storing in garage type area and climate controlled storage spaces which are ideal for temperature sensitive items like electronics and furniture. As a Space Center Storage customer you will enjoy the following benefits: 24 hour access to your storage, closed circuit camera systems, driveways that are wide and well lit and lighting inside most of our storage units. We also sell locks, boxes and storage supplies to help make storing with us as convenient and easy as possible.
We never charge a deposit or setup fee to rent a storage unit from us. Our lease is on a month to month basis so there is no long term commitment. We also offer a variety of payment options: we accept Visa, MasterCard, Discover & American Express, checks, and offer automatic debit from your checking account or credit card. You can also access your account and pay online 24 hours a day through our website.
Our managers are skilled at helping customers determine the correct type and size storage unit that will best fit your needs. At Space Center Storage, we pay particular attention to make sure that our stores and storage units are clean and comfortable for our customers and their belongings. Many of our stores offer extended evening and weekend hours so please call or come visit one of our 11 Kentucky locations today.

Lexington, KY • (859) 254-4455 or (859) 269-0001
Shelbyville, KY • (502) 633-9922
Fern Creek / Louisville • (502) 239-6676